Courier-Post, June 15, 1999
<![if !supportEmptyParas]> <![endif]>
Teens' deaths shock friends, communities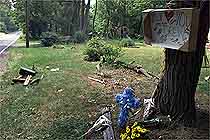 AVI STEINHARDT/Courier-Post
A memorial and debris mark the site of a Mount Laurel car crash that killed two teens over the weekend.
---
By RICHARD PEARSALL
Courier-Post staff

MOUNT LAUREL - Normally, township Fire Chief William Dukes would have responded to the pager call he got Saturday night reporting a serious car crash on Fostertown Road.
But it was anniversary night for him and his wife of 19 years, Geraldine.
"And I knew I had two deputies on the scene who could handle it," the chief recalled Monday. "So I sat back down."
Not long after, one of those deputies, Don Murray, arrived at the Dukes home with two police officers. They bore the worst news any parent can hear - their son, William Jr., known as Billy, was killed in the crash.
On Monday, the chief and his family struggled to cope with their loss.
"We go in and out of it," he said of their grief, then turned his concern to the men who were on the scene Saturday night.
"They were caught in a tough situation," Dukes said. "I know that some of them are still having a hard time dealing with it."
Billy Dukes was killed instantly in the crash, which occurred on a straight but mist-slickened, two-lane road.
Also killed was Andrew Rubel, 16, of Clementon, who was sitting with Dukes in the back seat of a 1995 Chevrolet Monte Carlo. Rubel died at Cooper Hospital/University Medical Center, Camden.
Injured were Justin Ramsden, 17, of Mount Laurel, the driver of the car, and Anna Marie Pinkavitch, 16, also of Mount Laurel, who was sitting in the front passenger seat. Both were taken to Cooper, where they were listed in stable condition Monday.
Police said Sunday there was no indication that alcohol or drugs were involved in the accident. They said Monday they had no further information on the cause of the crash.
Both of the teens killed in the crash were described by teachers and classmates as popular, bright and well-respected.
Dukes was a sophomore at Lenape Regional High School in Medford, and Rubel was a sophomore at Paul VI High School in Haddon Township.
A visitor watching Lenape students pour into the hall at the end of classes Monday might not have immediately grasped that Monday was different from any other day.
Students chatted and smiled and hurried to get out the door and onto their waiting buses.
But then the visitor would have noticed that there were no shouted calls, no laughter, none of the din that normally accompanies the end of a school day - particularly the last day of regular classes for the year.
"You wouldn't know it's June 14," Jim Greway, an assistant principal at the school, said sadly, watching the exodus.
Outside, the flag hung limply at half-staff on the muggy afternoon.
"I was in denial," Mike Fernholz, 16, a sophomore at Lenape, said Monday afternoon. "Someone told me Billy was dead and I just said, 'No, that can't be.' "
This is the second time in as many months that Lenape has lost a young life to an automobile accident. One of the four girls killed in North Carolina in April, Amanda Geiger, 17, was a former Lenape student.
All told, five students from the Lenape Regional School District, which also includes Cherokee High in Evesham and Shawnee High in Medford, have died in accidents this year. The district has a formal policy in place to cope with such situations, which includes the availability of counselors to talk things out.
Out on Fostertown Road, beneath two locust trees with deep scars, a cluster of floral bouquets lay Monday afternoon.
Signatures cover a hastily crafted cardboard sign nailed to one of the trees.
And on it were penned messages, some spelled out, others expressed with a heart, telling the young victims "we love you."